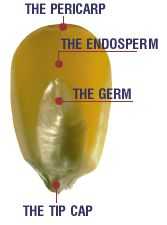 Lab 5: File System and Shell
Handed out Tuesday, November 30, 2004
Due Wednesday, December 15, 2004
Introduction
In this lab, you will implement a simple disk-based file system, and then write exec code to load and run an executable stored in this on-disk file system. The file system itself will be implemented in microkernel fashion, outside the kernel but within its own user-space environment. Other environments access the file system by making IPC requests to this special file system environment. The exec functionality, however, will be implemented in neither the kernel nor the file system, but in typical exokernel fashion, as part of the user space library operating system that is linked into each application that wants to use it.
Getting Started
Download the lab 5 code and port your code into it using gmake patch as usual.
The main new component for this lab is the file system server, located in the new fs directory. Scan through all the files in this directory to get a feel for what's new. Also, there are some new file system-related source files in the user and lib directories, particularly lib/fsipc.c, lib/file.c, and new global header files inc/fs.h and inc/fd.h. Scan through all of these files.
You should run the pingpong, primes, and forktree test cases from lab 4 again after merging in the new lab 5 code. You will need to temporarily comment out the ENV_CREATE line that starts fs/fs to avoid Bochs panicking because fs/fs does some I/O. If your lab 4 code doesn't contain any bugs, the test cases should run fine. Don't proceed until they work.
Lab Requirements
This lab is divided into parts. You will need to do all of the regular exercises described in the lab and at least one challenge problem. (You do not need to do one challenge problem per part, just one for the whole lab.) Additionally, you will need to write up a short (e.g., one or two paragraph) description of what you did to solve your chosen challenge problem. If you implement more than one challenge problem, you only need to describe one of them in the write-up, though of course you are welcome to do more. Place the write-up in a file called answers.txt (plain text) or answers.html (HTML format) in the top level of your lab5 directory before handing in your work.
File system preliminaries
The file system you will work with is much simpler than most "real" file systems, but it is powerful enough to provide the standard "basic" features: creating, reading, writing, and deleting files organized in a hierarchical directory structure.
We are (for the moment anyway) developing only a "single-user" operating system, which provides protection sufficient to catch bugs but not to protect multiple mutually suspicious users from each other. Our file system therefore does not support the UNIX notions of file ownership or permissions. Our file system also currently does not support hard links, symbolic links, time stamps, or special device files like most UNIX file systems do.
On-Disk File System Structure
Most UNIX file systems divide available disk space into two main types of regions: inode regions and data regions. UNIX file systems assign one inode to each file in the file system; a file's inode holds critical meta-data about the file such as its stat attributes and pointers to its data blocks. The data regions are divided into much larger (typically 8KB or more) data blocks, within which the file system stores file data and directory meta-data. Directory entries contain file names and pointers to inodes; a file is said to be hard-linked if multiple directory entries in the file system refer to that file's inode. Since our file system will not support hard links, we do not need this level of indirection and therefore can make a convenient simplification: our file system will not use inodes at all, but instead we will simply store all of a file's (or sub-directory's) meta-data within the (one and only) directory entry describing that file.
Both files and directories logically consist of a series of data blocks, which may be scattered throughout the disk much like the pages of an environment's virtual address space can be scattered throughout physical memory. The file system allows user processes to read and write the contents of files directly, but the file system handles all modifications to directories itself as a part of performing actions such as file creation and deletion. Our file system does, however, allow user environments to read directory meta-data directly (e.g., with read and write), which means that user environments can perform directory scanning operations themselves (e.g., to implement the ls program) rather than having to rely on additional special calls to the file system. The disadvantage of this approach to directory scanning, and the reason most modern UNIX variants discourage it, is that it makes application programs dependent on the format of directory meta-data, making it difficult to change the file system's internal layout without changing or at least recompiling application programs as well.
Sectors and Blocks
Most disks cannot perform reads and writes at byte granularity, but can only perform reads and writes in units of sectors, which today are almost universally 512 bytes each. File systems actually allocate and use disk storage in units of blocks. Be wary of the distinction between the two terms: sector size is a property of the disk hardware, whereas block size is an aspect of the operating system using the disk. A file system's block size must be at least the sector size of the underlying disk, but could be greater.
The original UNIX file system used a block size of 512 bytes, the same as the sector size of the underlying disk. Most modern file systems use a larger block size, however, because storage space has gotten much cheaper and it is more efficient to manage storage at larger granularities. Our file system will use a block size of 4096 bytes, conveniently matching the processor's page size.
Superblocks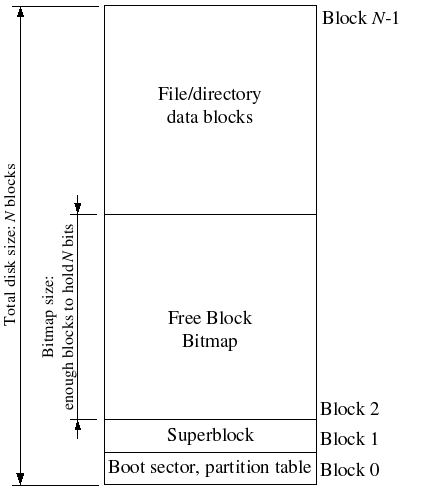 File systems typically reserve certain disk blocks, at "easy-to-find" locations on the disk such as the very start or the very end, to hold meta-data describing properties of the file system as a whole, such as the block size, disk size, any meta-data required to find the root directory, the time the file system was last mounted, the time the file system was last checked for errors, and so on. These special blocks are called superblocks.
Our file system will have exactly one superblock, which will always be at block 1 on the disk. Its layout is defined by struct Super in inc/fs.h. Block 0 is typically reserved to hold boot loaders and partition tables, so file systems generally never use the very first disk block. Most "real" file systems maintain multiple superblocks, replicated throughout several widely-spaced regions of the disk, so that if one of them is corrupted or the disk develops a media error in that region, the other superblocks can still be found and used to access the file system.
The Block Bitmap: Managing Free Disk Blocks
In the same way that the kernel must manage the system's physical memory to ensure that a given physical page is used for only one purpose at a time, a file system must manage the blocks of storage on a disk to ensure that a given disk block is used for only one purpose at a time. In pmap.c you keep the Page structures for all free physical pages on a linked list, page_free_list, to keep track of the free physical pages. In file systems it is more common to keep track of free disk blocks using a bitmap rather than a linked list, because a bitmap is more storage-efficient than a linked list and easier to keep consistent. Searching for a free block in a bitmap can take more CPU time than simply removing the first element of a linked list, but for file systems this isn't a problem because the I/O cost of actually accessing the free block after we find it dominates for performance purposes.
To set up a free block bitmap, we reserve a contiguous region of space on the disk large enough to hold one bit for each disk block. For example, since our file system uses 4096-byte blocks, each bitmap block contains 4096*8=32768 bits, or enough bits to describe 32768 disk blocks. In other words, for every 32768 disk blocks the file system uses, we must reserve one disk block for the block bitmap. A given bit in the bitmap is set if the corresponding block is free, and clear if the corresponding block is in use. The block bitmap in our file system always starts at disk block 2, immediately after the superblock. For simplicity we will reserve enough bitmap blocks to hold one bit for each block in the entire disk, including the blocks containing the superblock and the bitmap itself. We will simply make sure that the bitmap bits corresponding to these special, "reserved" areas of the disk are always clear (marked in-use).
File Meta-data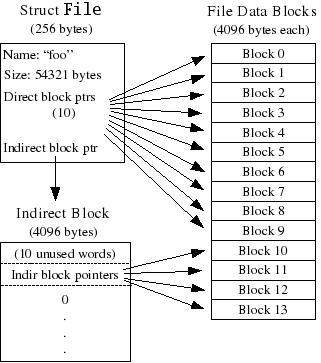 The layout of the meta-data describing a file in our file system is described by struct File in inc/fs.h. This meta-data includes the file's name, size, type (regular file or directory), and pointers to the blocks comprising the file. Unlike in most "real" file systems, for simplicity we will use this one File structure to represent file meta-data as it appears both on disk and in memory. Some of the fields in the structure (currently, only f_dir) are only meaningful while the File structure is in memory; whenever we read a File structure from disk into memory, we clear these fields.
The block array in struct File contains space to store the block numbers of the first 10 (NDIRECT) blocks of the file, which we call the file's direct blocks. For small files up to 10*4096 = 40KB in size, this means that the block numbers of all of the file's blocks will fit directly within the File structure itself. For larger files, however, we need a place to hold the rest of the file's block numbers. For any file greater than 40KB in size, therefore, we allocate an additional disk block, called the file's indirect block, to hold up to 4096/4 = 1024 additional block numbers. To keep bookkeeping simple, we leave the first 10 numbers in the indirect block unused. Thus, the 10th block number is the 10th slot in the indirect block (rather than the 0th, as might be done if we were being very space-efficient). Our file system therefore allows files to be up to 1024 blocks, or four megabytes, in size. To support larger files, "real" file systems typically support double- and triple-indirect blocks as well.
Directories versus Regular Files
A File structure in our file system can represent either a regular file or a directory; these two types of "files" are distinguished by the type field in the File structure. The file system manages regular files and directory-files in exactly the same way, except that it does not interpret the contents of the data blocks associated with regular files at all, whereas the file system interprets the contents of a directory-file as a series of File structures describing the files and subdirectories within the directory.
The superblock in our file system contains a File structure (the root field in struct Super), which holds the meta-data for the file system's root directory. The contents of this directory-file is a sequence of File structures describing the files and directories located within the root directory of the file system. Any subdirectories in the root directory may in turn contain more File structures representing sub-subdirectories, and so on.
Part 1: The File System Server
Disk Access
The file system server in our operating system needs to be able to access the disk, but we have not yet implemented any disk access functionality in our kernel. Instead of taking the conventional "monolithic" operating system strategy of adding an IDE disk driver to the kernel along with the necessary system calls to allow the file system to access it, we will instead implement the IDE disk driver as part of the user-level file system environment. We will still need to modify the kernel slightly, in order to set things up so that the file system environment has the privileges it needs to implement disk access itself.
It is easy to implement disk access in user space this way as long as we rely on polling, "programmed I/O" (PIO)-based disk access and do not use disk interrupts. It is possible to implement interrupt-driven device drivers in user mode as well (the L3 and L4 kernels do this, for example), but it is much more difficult since the kernel must field device interrupts and dispatch them to the correct user-mode environment.
The x86 processor uses the IOPL bits in the EFLAGS register to determine whether protected-mode code is allowed to perform special device I/O instructions, such as IN and OUT. The IOPL bits equal the minimum (i.e. numerically highest) privilege level allowed to perform IN and OUT instructions, so if those bits are 0, only the kernel can execute INs and OUTs. All of the IDE disk registers we need to access are located in the x86's I/O space (rather than memory-mapped I/O space), so to let the file system environment access the disk, all we need to do is manipulate the IOPL bits. But no other environment should be able to access I/O space.
To keep things simple, from now on we will arrange things so that the file system is always user environment 1. (Recall that the idle loop is always user environment 0.)
Exercise 1. Modify your kernel's environment initialization function, env_alloc in env.c, so that it gives environment 1 I/O privilege, but never gives that privilege to any other environment.

Use gmake grade to test your code.
Do you have to do anything else to ensure that this I/O privilege setting is saved and restored properly when you subsequently switch from one environment to another? Make sure you understand how this environment state is handled.
Read through the files in the new fs directory in the source tree. The file fs/ide.c implements our minimal PIO-based disk driver. The file fs/serv.c contains the umain function for the file system server.
Note that the new .bochsrc file in this lab sets up Bochs to use the file kern/bochs.img as the image for disk 0 (typically "Drive C" under DOS/Windows) as before, and to use the (new) file obj/fs/fs.img as the image for disk 1 ("Drive D"). In this lab your file system should only ever touch disk 1; disk 0 is used only to boot the kernel. If you manage to corrupt either disk image in some way, you can reset both of them to their original, "pristine" versions simply by typing:
$ rm obj/kern/bochs.img obj/fs/fs.img
$ gmake

Challenge! Implement interrupt-driven IDE disk access, with or without DMA. You can decide whether to move the device driver into the kernel, keep it in user space along with the file system, or even (if you really want to get into the microkernel spirit) move it into a separate environment of its own.
The Block Cache
In our file system, we will implement a very simplistic "buffer cache" with the help of the processor's virtual memory system. Our file system will be limited to handling disks of size 3GB or less. We reserve a large, fixed 3GB region of the file system environment's address space, from 0x10000000 (DISKMAP) up to 0xD0000000 (DISKMAP + DISKSIZE), to map disk block pages. In particular, disk block B is always mapped at address DISKMAP + B*PGSIZE. If that address is unmapped, than disk block B is not in memory. For example, disk block 0 is mapped at virtual address 0x10000000 whenever it is in memory, disk block 1 is mapped at virtual address 0x10001000, and so on. We can tell whether a block is mapped by consulting vpd and vpt.

Since our file system environment has its own virtual address space independent of the virtual address spaces of all other environments in the system, and the only thing the file system needs to do is to implement file access, it is reasonable to reserve most of the file system environment's address space in this way. It would be problematic for a "real" file system implementation on a 32-bit machine to do this of course, since most disks available today are already larger than 3GB. Such a buffer cache management approach may still be reasonable on a machine with a 64-bit address space, such as Intel's Itanic or AMD's Athlon 64 processors.

Exercise 2. Implement the read_block and write_block functions in fs/fs.c. The read_block function should test to see if the requested block is already in memory, and if not, allocate a page and read in the block using ide_read. Keep in mind that there are multiple disk sectors per block/page, and that read_block may need to store the virtual address at which the requested block was mapped.

The write_block function may assume that the indicated block is already in memory, and simply writes it out to disk. We will use the VM hardware to keep track of whether a disk block has been modified since it was last read from or written to disk. To see whether a block needs writing, we can just look to see if the PTE_D "dirty" bit is set in the vpt entry. After writing the block, write_block should clear the PTE_D bit using sys_page_map.

Use gmake grade to test your code.
The Block Bitmap
After fs_init calls read_super (which we have provided) to read and check the file system superblock, fs_init calls read_bitmap to read and perform basic validity checking on the disk's block bitmap. For speed and simplicity, our file system will always keep the entire block bitmap in memory.
Exercise 3. Implement read_bitmap. It should check that all of the "reserved" blocks in the file system -- block 0, block 1 (the superblock), and all the blocks holding the block bitmap itself -- are marked in-use. Use the provided block_is_free routine for this purpose. You may simply panic if the file system is invalid.

Use gmake grade to test your code.
Exercise 4. Use block_is_free as a model to implement alloc_block_num, which scans the block bitmap for a free block, marks that block in-use, and returns the block number. When you allocate a block, you should immediately flush the changed bitmap block to disk with write_block, to help file system consistency.

Use gmake grade to test your code.
File Operations
We have provided a variety of functions in fs/fs.c to implement the basic facilities you will need to interpret and manage File structures, allocate and/or find a given block of a file, scan and manage the entries of directory-files, and walk the file system from the root to resolve an absolute pathname. Read through all of the code in fs/fs.c carefully and make sure you understand what each function does before proceeding.
Exercise 5. Fill in the remaining functions in fs/fs.c that implement "top-level" file operations: file_open, file_get_block, file_truncate_blocks, and file_flush.

Use gmake grade to test your code.
You may notice that there are two operations conspicuously absent from this set of functions implementing "basic" file operations: namely, read and write. This is because our file server will not implement read and write operations directly on behalf of client environments, but instead will use our kernel's IPC-based page remapping functionality to pass mapped pages to file system clients, which these client environments can then read and write directly. The page mappings we pass to clients will be exactly those pages that represent in-memory file blocks in the file system's own buffer cache, fetched via file_get_block. You will see the user-space read and write in part 2.
Challenge! The file system code uses synchronous writes to keep the file system fairly consistent in the event of a crash. Implement soft updates instead.
Client/Server File System Access
Now that we have implemented the necessary functionality within the file system server itself, we must make it accessible to other environments that wish to use the file system. There are two pieces of code required to make this happen: client stubs and server stubs. Together, they form a remote procedure call, or RPC, abstraction, where we make IPC-based communication across address spaces appear as if they were ordinary C function calls within client applications.
The client stubs, which we have implemented for you and provided in lib/fsipc.c, implement the "client side" of the file system server's IPC protocol. Like fork, these functions are linked into each application that wants to use the file system. When a client application needs to communicate with the file server, it will use the client stubs to perform this communication. Each client stub uses ipc_send to send a message to the server, and then uses ipc_recv to wait for a reply to its request.
Exercise 6. The server stubs are located in the file server itself, implemented in fs/serv.c. These stubs accept IPC requests from clients, decode and validate the arguments, and serve those requests using the file access functions in fs/fs.c. We have provided a skeleton for this server stub code, but you will need to fill it out. Use the client stubs in lib/fsipc.c to help you figure out the exact protocol between the client and the server. Read the comments in serve_setsize carefully so you understand the interlocking data structures.
Use gmake grade to test your code.
Part 2: File System Access from Client Environments
Client-Side File Descriptors
Although we can write applications that directly use the client-side stubs in lib/fsipc.c to communicate with the file system server and perform file operations, this approach would be inconvenient for many applications because the IPC-based file server interface is still somewhat "low-level" and does not provide conventional read/write operations. To read or write a file, the application would first have to reserve a portion of its address space, map the appropriate blocks of the file into that address region by making requests to the file server, read and/or change the appropriate portions of those mapped pages, and finally send a "close" request to the file server to ensure that the changes get written to disk. We will write library routines to perform these tasks on behalf of the application, so that the application can use conventional UNIX-style file access operations such as read, write, and seek.
The client-side code that implements these UNIX-style file operations is located in lib/fd.c and lib/file.c. lib/fd.c contains functions to allocate and manage generic Unix-like file descriptors, while lib/file.c implements file descriptors referring to files managed by the file server. We have implemented most of the functions in both of these files for you; the only ones you need to fill in are fd_alloc and fd_lookup in lib/fd.c, and open and close in lib/file.c.
The file descriptor layer defines two new virtual address regions within each application environment's address space. The first is the file descriptor table area, starting at address FDTABLE, reserves one 4KB page worth of address space for each of the up to MAXFD (currently 32) file descriptors the application can have open at once. At any given time, a particular file descriptor table page is mapped if and only if the corresponding file descriptor is in use.
The second new virtual address region is the file mapping area, starting at virtual address FILEBASE. Like the file descriptor table, the file mapping area is organized as a table indexed by file descriptor, except the "table entries" in the file mapping area consist of 4MB rather than 4KB of address space. In particular, for each of the MAXFD possible file descriptors, we reserve a fixed 4MB region in the file mapping area in which to map the contents of currently open files. Since our file server only supports files of up to 4MB in size, these client-side functions are not imposing any new restrictions by only reserving 4MB of space to map the contents of each open file.
Exercise 7. Implement fd_alloc and fd_lookup. fd_alloc finds an unused file descriptor number, and returns a pointer to the corresponding file descriptor table entry. Similarly, fd_lookup checks to make sure a given file descriptor number is currently active, and if so returns a pointer to the corresponding file descriptor table entry.
Exercise 8. Implement open. It must find an unused file descriptor using fd_alloc(), make an IPC request to the file server to open the file, and then map all the file's pages into the appropriate reserved region of the client's address space. Be sure your code fails gracefully if the maximum number of files are already open, or if any of the IPC requests to the file server fail.

Use gmake grade to test your code.
Exercise 9. Implement file_close. It must first notify the file server of any pages it has modified and then make a request to the file server to close the file. When the file server is asked to close the file, it will write the new data to disk. (Be sure you understand why the file system cannot just rely on the PTE_D bits in its own mappings of the file's pages to determine whether or not those pages were modified.) The file_close function should also unmap all mapped pages in the reserved file-mapping region for the previously-open file, to help catch bugs in which the application might try to access that region after the file is closed.
Use gmake grade to test your code.
Challenge! Add support to the file server and the client-side code for files greater than 4MB in size.
Challenge! Make the file access operations lazy, so that the pages of a file are only mapped into the client environment's address space when they are touched. Be sure you can still handle error conditions gracefully, such as the file server running out of memory while the application is trying to read a particular file block.
Challenge! Change the file system to keep most file metadata in Unix-style inodes rather than in directory entries, and add support for hard links between files.
Challenge! Change the file system design to support more than one file descriptor per page.
Part 3: Spawning Processes from the File System
In this exercise, you'll extend spawn from Lab 4 to load program images from the file system as well as from kernel binary images.
Exercise 10. Change your pgfault code in lib/fork.c so that the page fault handler maps all its temporary pages at PFTEMP (not UTEMP). You don't want a page fault to unmap a temporary page in use for another reason!
Exercise 11. Complete the implementation of binary_page_alloc in lib/spawn.c.
Use gmake grade to test your code. The test runs the user/icode program from kern/init.c, which attempts to spawn /init from the file system. You can add new files to the file system by editing the rules in fs/Makefrag.
Part 4: A Shell
In this part of the lab, you'll extend JOS to handle everything necessary to support a shell. We've done a lot of the work for you, but you must (1) make it possible to share file descriptors across environments, (2) clean up a couple loose ends, and (3) implement file redirection in the shell.
Sharing pages between environments
We would like to share file descriptor state across fork and spawn, but file descriptor state is kept in user-space memory. Right now, on fork, the memory will be marked copy-on-write, so the state will be duplicated rather than shared. (This means that running "(date; ls) >file" will not work properly, because even though date updates its own file offset, ls will not see the change.) On spawn, the memory will be left behind, not copied at all. (Effectively, the spawned environment starts with no open file descriptors.)
We will change both fork and spawn to know that certain regions of memory are used by the "library operating system" and should always be shared. Rather than hard-code a list of regions somewhere, we will set an otherwise-unused bit in the page table entries (just like we did with the PTE_COW bit in fork).
We have defined a new PTE_SHARE bit in inc/lib.h. If a page table entry has this bit set, then by convention, the PTE should be copied directly from parent to child in both fork and spawn. Note that this is different from marking it copy-on-write: as described in the first paragraph, we want to make sure to share updates to the page.
Exercise 12. Change your duppage code in lib/fork.c to follow the new convention. If the page table entry has the PTE_SHARE bit set, just copy the mapping directly, regardless of whether it is marked writable or copy-on-write. (This could be a one-line change, depending on your current code!)
Exercise 13. Change spawn in lib/spawn.c to propagate PTE_SHARE pages. After it finishes setting up the child virtual address space but before it marks the child runnable, it should call copy_shared_pages to loop through all the page table entries in the current process (just like fork did), copying any mappings that have the PTE_SHARE bit set. You'll need to modify spawn so that it calls copy_shared_pages (a one-line change), and implement copy_shared_pages itself (more than one line).
Use gmake run-testpteshare to check that your code is behaving properly. You should see lines that say "fork handles PTE_SHARE right" and "spawn handles PTE_SHARE right".
Exercise 14. Change your definition of serve_map in the file server's fs/serv.c so that all the file descriptor table pages and the file data pages get mapped with PTE_SHARE. (This could be a one-line change, depending on your current code!)
Use gmake run-testfdsharing to check that file descriptors are shared properly. You should see lines that say "read in child succeeded" and "read in parent succeeded".
Pipes
Pipes (or files that run between processes) and the console are both I/O stream interfaces. Like Unix, JOS presents these streams using the file descriptor interface. To support this, the file descriptor subsystem uses a simple virtual file system layer, implemented by struct Dev, so that disk files, console files, and pipes all implement the file descriptor functions differently.
We've implemented pipes for you, including the race condition protection necessary to detect when pipes are closed. (If you're curious -- and you should be! -- read the pipe manual page, the pipe section of Dennis Ritchie's UNIX history paper for interesting history, or MIT's Lab 6 for details.) You just need to implement two bits of kernel bookkeeping.
Exercise 15. Change env_run in kern/env.c to increment each environment's env_runs counter every time the environment is run. (This should be a one-line change!) Then change trap in kern/trap.c to call kbd_intr() every time interrupt number IRQ_OFFSET+1 occurs. (This should be a three-line change.)
Run gmake run-testpipe (you should see two "pipe tests passed" lines) and gmake run-primespipe to test your code.
The shell itself
Run gmake xrun-initsh. This will run your kernel inside the X11 Bochs starting user/initsh, which sets up the console as file descriptors 0 and 1 (standard input and standard output), then spawns sh, the shell. Run ls and cat lorem.
Exercise 16. The shell can only run simple commands. It has no redirection or pipes. It is your job to add these. Flesh out user/sh.c.
Once your shell is working, you should be able to run the following commands:

echo hello world | cat
cat lorem >out
cat out
cat lorem |num
cat lorem |num |num |num |num |num
lsfd
cat script
sh <script

Note that the user library routine printf prints straight to the console, without using the file descriptor code. This is great for debugging but not great for piping into other programs. To print output to a particular file descriptor (for example, 1, standard output), use fprintf(1, "...", ...). See user/ls.c for examples.
Run gmake run-testshell to test your shell. Testshell simply feeds the above commands (also found in fs/testshell.sh) into the shell and then checks that the output matches fs/testshell.key.
Challenge! Add more features to the shell. Some possibilities include:
backgrounding commands (ls &)
multiple commands per line (ls; echo hi)
command grouping ((ls; echo hi) | cat > out)
environment variable expansion (echo $hello)
quoting (echo "a | b")
command-line history and/or editing
tab completion
directories, cd, and a PATH for command-lookup.
file creation
ctl-c to kill the running environment
but feel free to do something not on this list. Be creative.
Challenge! There is a bug in our disk file implementation related to multiple programs writing to the same file descriptor. Suppose they are properly sequenced to avoid simultaneous writes (for example, running "(ls; ls; ls; ls) >file" would be properly sequenced since there's only one writer at a time). Even then, this is likely to cause a page fault in one of the ls instances during a write. Identify the reason and fix this.
This completes the lab.